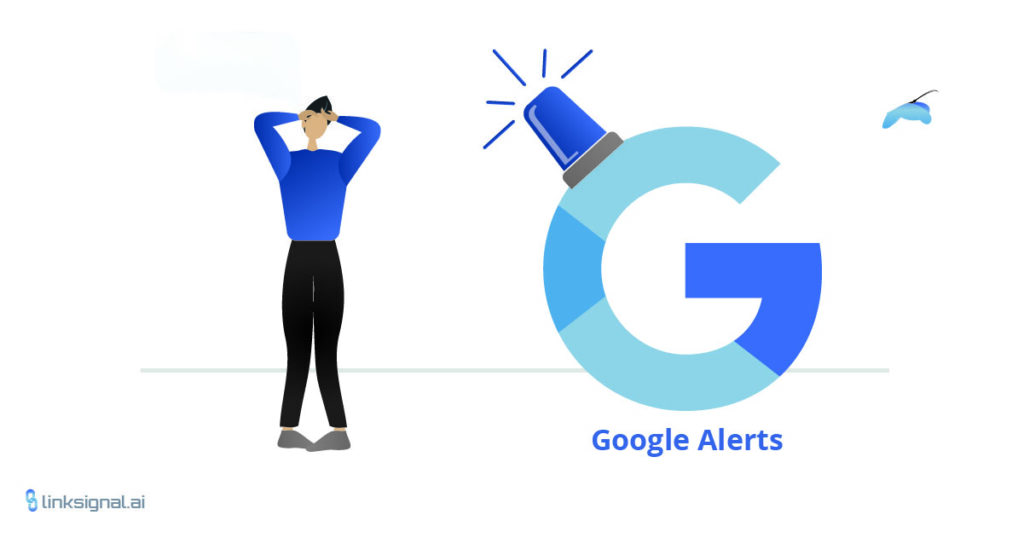 Google Alerts and SEO? How?
Google Alerts is probably one of the most underrated SEO techniques one can think of. Some radically disagree that Google Alerts fall somewhere along the lines of SEO.
But listen, we've done it, you can do it too. This article will show you how to allow Google Alerts to perform SEO-friendly activities such as monitoring your and your competitor's online mentions on the web, being up-to-date on the latest SEO techniques, etc.
And yes, you've got that right. Alerts themselves do not boost your rankings, still, you can use it to your benefit in regards to different aspects of SEO.
Table of Content
How Does it Contribute to My SEO?
How Do I Create A Google Alert?
How Do I See my Google Alerts?
Niche-Specific Forums and Discussions
Monitor Latest Marketing/ SEO Strategies
What are Google Alerts?
Google Alerts are notifications that you can create on any topic or subject on Google. You can adjust the frequency of the alerts using Google Advanced Search Operators to get the maximum efficiency. But Advanced Search Operators is a separate topic. 
[link to Google Advanced Search Operators article]
How Does it Contribute to My SEO?
I'm making this clear from the very beginning. Google Alerts does not boost your SEO. There is nothing you can do to make it contribute to your rankings directly. However, you can make it a must-third-party-tool and I promise, you won't get disappointed.
Who wouldn't want a personal assistant who is always surfing the web, looking for updates from competitors, searching for more optimization, and link building opportunities? Doesn't it sound like a full-time job? Then let me enlighten you: Google gives out that private assistant for free. You can absolutely make your Google Alerts perform all of this for zero money. Interested? Let's get right into it.
How do I Create a Google Alert?
Setting up Google Alerts is easier and a lot less time consuming than you think.
Go to Google Alerts
Type the search term (whatever you want to monitor) into the search bar
Click on Show Options for advanced filtering: select the frequency (as it happens, at most once a day, at most once a month), pick sources you want it to get from (news, blogs, web, etc), language, region, only the best or all results, and the email address to deliver the alerts to
Hit the Create Alert button
Here you go! You're all set. Now, this alert will track for the SEO agency mentions near the chosen area and will notify through the mentioned email upon the selected filters.
How Do I See My Google Alerts?
As mentioned, your Google Alert is being emailed to you and you are completely in control of the bunch of Alerts you are getting. So, your inbox is the place to look for an alert and check out the received ones. The alert also contains a link to the source, as a rule. Here is how it looks:
How Do I Use Google Alerts?
Let's think of ways to make the alerts more practical for us. The first thing that grabs my attention in unlinked mentions on the web.
Unlinked Mentions
Google Alerts can actually be a good way to track the unlinked mentions. Indeed not every referring domain interlinks to you. So, one thing you can use the alerts for is finding the unlinked mentions and reaching out to the authors for a prospective backlink. To increase your chances of finding all the unmentioned links set up the alerts with all the brand-related names. I know, it takes some time, but it's worth the effort if you care about your backlinks.
Google Reviews
Did you know that you can also navigate your business reviews on Google Alerts? Reviews overall, even the negative ones, can boost your SEO. But let's be honest, do you really want bad reviews? Isn't it better if you set an alert for your business's review, and in case of getting a bad one just reach out to the customer and try to improve the matter? I think having an opportunity to improve your reviews on time is much better than getting a bad review and not doing anything about it, or deciding to do only when it's too late. For that use [brand name] + intitle:review, like in the picture:
Monitoring Competitors
You do need to know what the public talks about your company and what they think in general about you as a leader. Yet, it is equally crucial to track your competitors and go hand in hand with their latest updates. What are the things they do, but you don't? Anything that inspires you? What is it that makes them successful? I don't know the response to that question but I know what can make you successful — properly planned and executed alerts.
New Guest Post Opportunities
This one derives from your competitors too. If you know that the abyss between your competitors and you, is not that deep, consider guest blogging or contributing opportunities. It really takes courage and probably does not fit everyone, but guest opportunities can be identified through Google Alerts. You can think of search terms like guest contributors needed, a guest post by or write for us, set them up and when the moment comes, pitch your idea. But don't expect a response right away. There are thousands of people engaged in the same activity, so, be patient and offer the best.
You can do the same with podcast opportunities too. Try putting the corresponding keyword and the new opportunities will not let you wait. The rest of the outreach is on you. Be creative!
Niche-Specific Forums and Discussions
Forums work similarly. Type in the appropriate search terms, with forums and your specific niche name, set up the alerts, and wait for updates. Once you receive them on your inbox, participate actively, and promote your product/service with the necessary wording and keywords.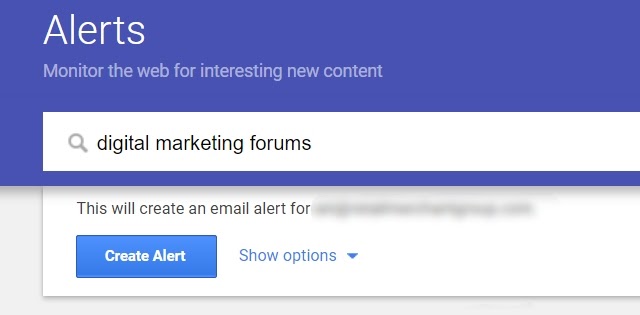 Find New NAP Citations
NAP citations are exceedingly important to your local SEO. They represent the very basics of your business, the name, the address, and the phone number, and just as the links, they are also online mentions of your company/website. In this case, here is what you can do: you have to use your competitor's NAPs to find their mentions and register your service in the same places too. I agree this one requires more time and energy to fully perform, but NAP citations affect your local SEO like nothing else. So, if that's something you heavily rely on, don't spare any effort.
Monitor Latest Marketing/SEO Strategies
We recommend creating alerts on Google to keep you updated on the latest SEO and marketing trends and strategies that might be helpful. Your search terms here can either be a marketing strategy and SEO strategy with more specifics filtered through Advanced Search Operators, or you can go another way. Use the names of your favorite journals and magazines to get updates when a new article is released. If I am an SEO agency, I will be interested to hear more from the Search Engine Journal. So, I will most likely set up an alert on that one and get my weekly dose of SEO novelties from them.
Finding Potential Clients
Imagine you are an SEO (or digital marketing) agency offering quality services tailored to the needs of your customers. Your target group is the startups in seed or pre-seed rounds. How would you use Google Alerts to reach out to them the easiest?
Right. You can insert all the search term variations curated through advanced operators, adjust the settings so that you get the alerts as they happen, meaning as the press release from the startup winning a seed round funding gets published, for instance, and begin with the outreach. This method will keep you ahead of the competition while also increasing your chances of interacting with potential clients.
Link Building Through Google Alerts
Finally, and this point almost sums up all the previously mentioned alerts applications, but you can and should use Google Alerts for link building. And let me tell you how. We all know that there is an abundance of topics and correspondingly opportunities out there. Then how do we prioritize those? The faithful Google notifications with the source filters that fit us.
What do we do when they get published? A sweet, friendly email! Start with a catchy subject line, give a little bit of an intro, show your value, appreciate their endeavors, ask for a link, and offer something instead. It can be again, a link, or anything else. If outreach works out, you can even ask what they would want instead. Maybe your collaboration will end up in a mutual guest blogging exchange. Interviews? Round-ups? Depends on your persuasion skills, so be proactive.
Final Thoughts
I hope now you acknowledge yourself that as contradictory as it can be, Google Alerts can perform a chain of functions to benefit your SEO. Agree, it is not a traditional tool to look at, but embedding Google Alerts to your SEO strategy can bring the desired results in a while. It all depends on you and your service/ business/ product.
So, utilize the knowledge from this article wisely. Which way did you go? Why did you decide to use Google Alerts if at all? How does your company benefit from it? Let us know in the comments and we will gladly discuss it with you.