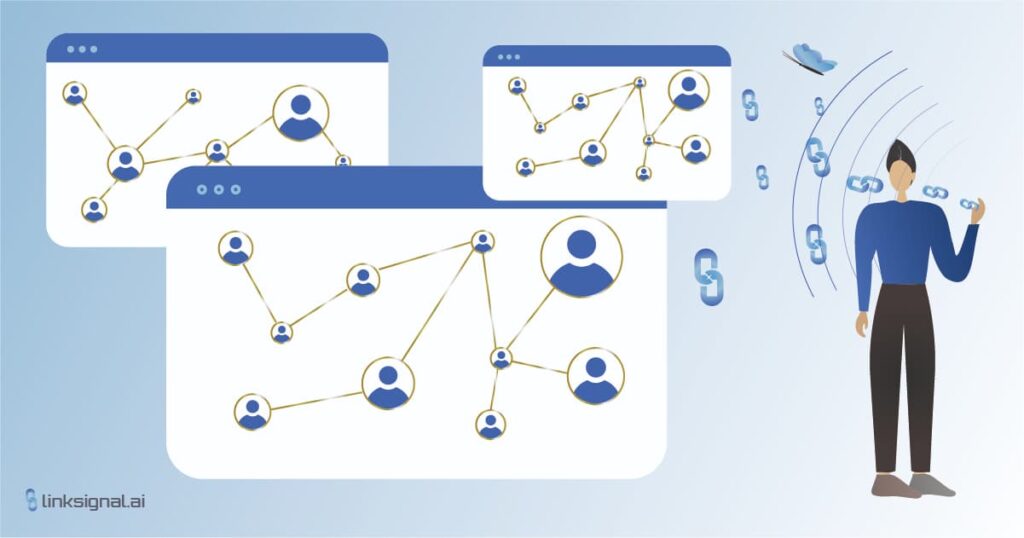 Unlinked brand mentions happen when your brand gets mentioned online without any link back to your site.
Let's say you work for Apple. Below are some of the mentions that you can ask for links:
iPhone
iPad
iMac
iCloud
Apple Music
….etc
Unlinked brand mentions are a pool of backlink opportunities. Compared to other backlink strategies, unlinked brand mentions are easy to turn into backlinks.
Why?
The webmaster already knows about your business and writes about you. You have a perfect reason for an outreach. All you have to do is to write then and ask for a courtesy link.
However, like in any link building strategy, quality is more important than quantity, and less is more! So you need to choose mentions wisely.
How to Choose Brand Mentions?
As you already know, we are not looking for any mention. Make sure to only reach out to quality sites.
Before outreach, look at several metrics, including:
Domain Authority
Page Authority
Spam Score
Organic Traffic
Domain Authority and Page Authority – exclude anything that has DA and PA lower than 30.
Spam Score – exclude anything that has SS more than 5.
To understand the legitimacy of the website, look both at DA and Organic Traffic. If you see anything strange, e.g., very high DA and low traffic or vice versa, skip the website.
The next is understanding if the website is relevant.
If you are in a specific niche, you do not want to get traffic from unrelated sources. Google may consider this link as unnatural and disregard it.
In some cases, this can increase the bounce rate because visitors might not be interested in your site and abandon it quickly.
How to Find Unlinked Brand Mentions?
Depending on the method you use, finding unlinked brand mentions might take a lot of time and resources. I will share a few ways below so that you can choose the most convenient one for you.
Search engines
To put it short, you need to find anything on the web that mentions your brand or your products. You will be using advanced search operators.
Let's continue using Apple as an example.
First, we will find all the mentions on Google, excluding apple.com and popular social media sites:
intext: Apple -apple.com -twitter.com -facebook.com -instagram.com-youtube.com
Also do this for all the products and service of Apple, for example:
intext: iPhone -apple.com -twitter.com -facebook.com -instagram.com-youtube.com
intext: iTunes -apple.com -twitter.com -facebook.com -instagram.com-youtube.com
intext: Macbook -apple.com -twitter.com -facebook.com -instagram.com-youtube.com
etc…
Tip: Make sure to delete "https://www." part from URL to include all the subdomains (e.g. support.apple.com or apps..apple.com) of Apple.
There are over 10 million results that mention Apple. Impressive!
We got lucky, and the first result contained multiple unlinked mentions:
If you want to keep everything manually, you have to check all the links and look for unlinked mentions manually.
Next step is checking the goodness of the fit by looking at Page Authority (PA), Domain Authority (DA), and Spam Score (SS) and Website Traffic.
Remember, don't ask for links from sites with DA and PA sites lower than 30 and SS higher than 5.
This process takes a lot of time and resources. If you do not have the help or time, consider hiring a Virtual Assistant from places like Upwork.
You can also automate this process by using a Google Search Results Scraper.
Now when you have all the pages that mention you but don't link, it is time to analyze the results. You can use Ahref's Batch Analysis or any other SEO tool to get needed metrics.
Upload all your URLs and exclude the links that have Domain and Page Authority lower than 30. If you have millions of mentions, you can increase the target.
Ahrefs' Content Explorer
You can find unlinked brand mentions comparably easier using Ahrefs' Content Explorer.
First, go to https://ahrefs.com/content-explorer and search for the company or product/service name, excluding the company's website and major social media sites.
iPhone -apple.com -twitter.com -facebook.com -instagram.com-youtube.com
There are over 40 million pages.
The next step is to filter based on language, Domain Rating and Page Authority.
After filtering, we end up having a little over 5 million results.
Next step is to export a file and go over each page to find the ones that do not link to apple.com.
You can automate the process of finding unlinked mentions using Screaming Frog or Free Link Checker Tool.
Before Outreach
Now when you have a list of all relevant and unlinked brand mentions, it is time to head off to the last step of the research
If you aim to get backlinks only, then the best approach is to contact the author of the article. If you are unable to find the author, consider the editor of the blog.
But before emailing the authors and asking for a link think for a minute.
You can use this opportunity to build partnerships with other bloggers and webmasters.
This outreach can also be an excuse to jump on a call and sell your products. So before sending your pitch always analyze your list.
Outreach
As you know, you can proceed with multiple templates at this stage.
If you decide to ask for a link, then you can use our template below.
In any case, make sure you are not pushy. There is no need to negotiate and spam people if they are not answering or politely rejecting your offer.
Also, try to offer something additional to the author. Maybe you found a typo in the article or the article had outdated information. Make sure to communicate this to the author.
Template
Hi [First name],
This is [your name] from [your company].
Thanks for mentioning [company name] in here
[article URL].
I was wondering if it would be possible to link to [company name] in this passage:
[the part from the article they mention your company name].
I think some of your visitors would like to visit [your company name] and linking will make it easy.
Thanks in advance!
Best,
[your name]
Monitor Continuously for Mentions
Researching unlinked brand mentions is not a one-step process. As your company grows, you will have more and more mentions.
Perform the steps above on a monthly basis to be on top of all the mentions.
Let's us know how you find unlinked brand mentions in the comments section.