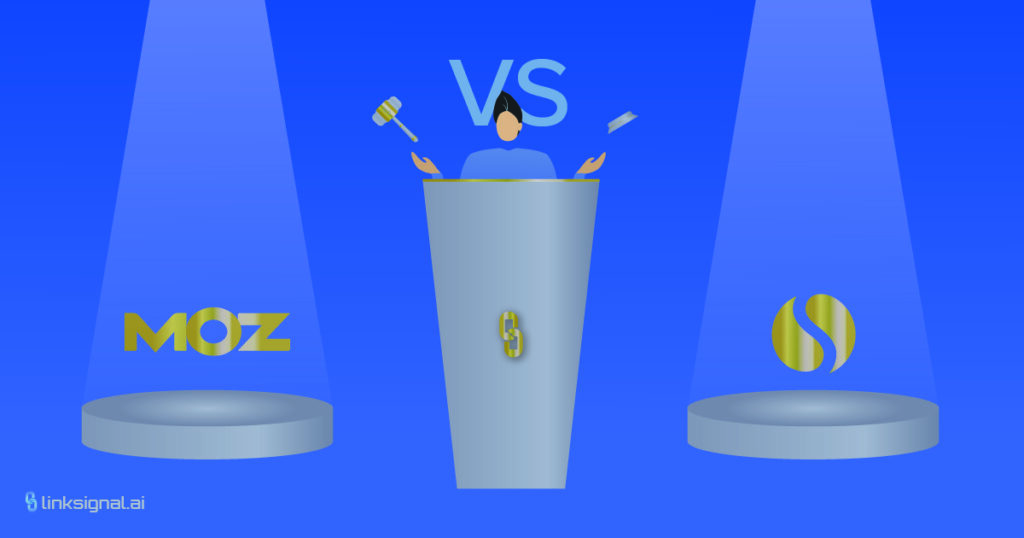 "If you know the enemy and know yourself, you need not fear the result of a hundred battles. If you know yourself but not the enemy, for every victory gained, you will also suffer a defeat. If you know neither the enemy nor yourself, you will succumb in every battle." – Sun Tzu, The Art of War.
The art of war is very much similar to conducting a business. Usually, the most successful and effective strategies are based on understanding your competitors.
In order to do that, you have probably done keyword research, analyzed their backlink profile and keep an eye on their blog posts. These are some of the competitor's analyzes you perform.
When it comes to understanding your competitor's digital presence, you can use quite a few tools.
In this post, we will discover the differences between Moz and SimilarWeb.
What are Moz and SimilarWeb
Keyword Analysis
Competitive Analysis
Pricing
It's All About What Your Business Needs
What are Moz and SimilarWeb
Moz is an all-in-one SEO tool that SEO professionals use to optimize websites for search engines. It can help conduct keyword research, create attractive content for search engines, and perform SEO Audits.
SimilarWeb, on the other hand, is more like Google Analytics for your competitors. It is focused on website statistics. You can discover your client's search volumes, referral sources, top keywords, time on site, page views, and bounce rate.
Keyword Research
In a nutshell, marketers conduct keyword research to understand what words and phrases to use for a number of purposes. More specifically, it is used to:
Know how many people are searching for specific keywords
Understand how difficult it is to rank for a keyword
Discover who is ranking for what
Generate new keywords
Let us discuss both MOZ and Similar Web from the perspective of
MOZ
The process is straightforward, you just put a keyword in their Keyword Explorer tool, and you get many results.
The first few things you see are:
search volume,
keyword difficulty score,
sites that are currently ranking for it,
list of related keywords.
A 100 scale score expresses the difficulty; the higher the score, the harder the ranking for the keyword.
Another useful keyword metric is Priority Score, which shows how worthwhile a keyword is for ranking.
The data MOZ uses is generally based on Google results and doesn't source data from other search engines like Bing and Yahoo.
One con that we face while using the keyword explorer is the limit of analyzing one keyword per search.
SimilarWeb
The keyword analysis feature in SimilarWeb is a good starting point for marketers seeking keywords for optimizing PPC campaigns and SEO.
You can also closely monitor the progress of keywords and their share traffic. Keeping an eye on this will allow understanding which sites are losing or winning for a specific keyword.
Besides, you can also see top organic and paid keywords. This will give you a general idea of what your competitors are up to. The tool also does a good job differentiating between branded vs. non-branded keywords. As a rule of thumb, you want to have an equal proportion of branded and non-branded keywords.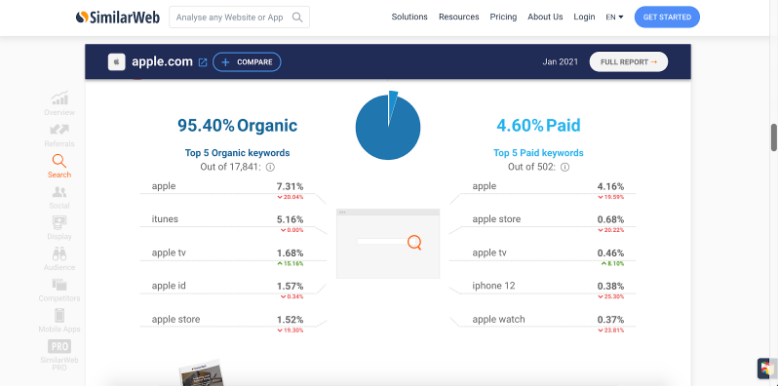 Competitive Analysis
SEO Competitive analysis is a strong way to analyze your market and rank higher, get more traffic and earn more conversions. Also, competitive analysis uncovers gaps in your market and guides you to a better marketing strategy.
MOZ
Moz offers an easy and simple way to understand your competitors. All you have to do is to add your domain name to the search tab, and the tool will show your competitors.
Here is an example competitor search we did for Moz.
Moz also allows you to discover your competitors' content. In this case, we are interested in seeing which content piece earned the most traffic for your competitor.
Content gap analysis is one of the oldest and reliable methods of SEO in producing winning articles.
You can use Moz's link explorer and find out the most performing content pieces of your competitors.
SimilarWeb
Like Moz, SimilarWeb does an excellent job in searching for your competitors. Besides showing your competitors' domains, the tool can be used for benchmarking.
You can compare your site against any domain by page views per visit, bounce rate, time spent on site, and overall visits.
SimilarWeb also goes to your competitor's sites' deepest places and generates information about the website's trendiest content pages and most visited parts.
You also have a full look at the competitors' funnels, allowing you to discover conversion funnels, approximate conversion rates, and traffic generation campaigns.
Pricing
It is no surprise that price can sometimes affect our decisions. If you are an established company with a good budget, you can probably afford all the tools that will greatly ease your life. However, for startups and small and medium businesses, pricing can be crucial.
Moz
For starters, Moz is not expensive; more specifically, it is free! Most of their SEO tools have free versions, and if you are not very much into SEO, this might be enough.
You usually get ten searches per period to use their Link Explorer, Keyword Explorer, and Domain Analysis. You can also download their famous MozBar for free!
They also came up with something very creative MozCast, which is also available for free. This tool is organized like a weather forecast and summarizes changes in Google Algorithm.
You can find all their free tools here.
However, if you need more than MozPro comes to help. Here is pricing information.
Depending on campaigns, research queries, and the additional services you need, your decision varies. Learn more about each plan here.
Also, MozPro comes with a 30-day free trial.
SimilarWeb
SimilarWeb offers a free package like Moz. Compared to Moz, it can be used for three months. After 90 days, you need to start paying.
So free version includes:
3 Months of Web Traffic Data
1 Month of Mobile App Data
5 Results Per Metric
After three months, you should choose one from the enterprise plans. Talk to their consultant to learn about pricing and packages for your business.
It's All About What Your Business Needs
Your business and marketing efforts will define what tool you need. But even if you decide to proceed with one tool, keep an open eye because new competitors keep entering the market and existing ones improve their offerings.
What tools do you use? Let us know in the comments below!