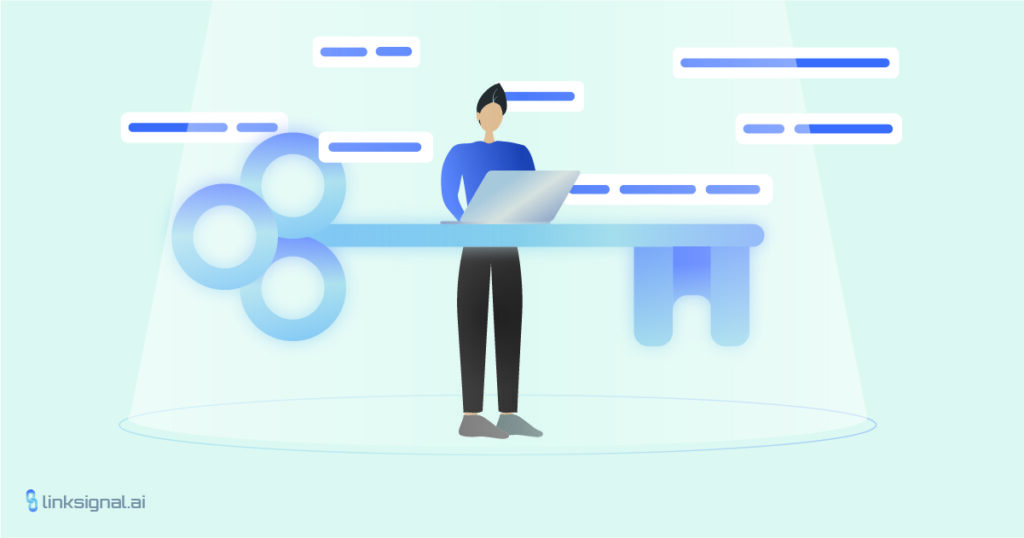 Have you thought, what is it exactly that makes you rank? What is that one thing that appears almost everywhere, without which your optimization would be utterly impossible?
Spot on! Keywords. They are the cornerstone of your SEO and one of the most crucial elements one can ever optimize for ranking.
In this article, we will uncover everything about keyword research, will answer the simplest and trickiest questions you might have, and will have fun analyzing different metrics to bring increased value to your website.
Table of Contents
What is a Keyword?
Keywords are words or phrases that people type into the search bar to find the desired content. For you to break through the search engine results page and hit number one, you really need to invest in keyword research.
How do I Find the Best Keywords?
Finding the best keywords for your website starts the moment you become clear on a specific group of keywords. Let's say you are writing an article about SEO strategies. Then SEO strategies become your seed or parent keyword. These are usually the first verbal expressions that come to mind when thinking of the topic. Now, to refine the further keyword research and narrow your target group as much as possible, you need to pay attention the way Google displays your search results. There are really tons of search intent types. The major ones that also help marketers identify specific keywords are as follows:
Informational Queries
This search intent is the easiest to understand. Anything that gives the reader solid information on the subject matter. For example, a brand name or a numerical data description will fall under the category of informational queries. They either answer a question or elaborate on the provided data. For instance, a keyword might be the response to a question similar to "who is the founder of Facebook?" Obviously, Mark Zuckerberg becomes a sample of an informational keyword.
A broader example of informational queries may include:
September 1
Wardrobe
Python
How to fix broken links?
Lost in Alaska
Again, their application will depend on the context, but this is just to give you a general idea of how they look like.
Navigational Queries
Navigational search intent already assumes that the visitor knows what they want and need to visit a certain place. Let's say you want to check what's new on Twitter. What would you do? You type Twitter to open up your feed. Or let's say you want to visit our backlink tool, Linksignal.ai, but to make it way quicker, you type linksignal instead of the URL. Both of these are examples of navigational queries.
More navigational queries:
Pinterest login
Google Drive
Repl
The Economist
Commercial Investigation
Imagine a situation: you are about to buy a new laptop for you, but are not sure about the model. So, you need to do more research, compare the features of different models to finalize your choice based on your primary needs. So, you type the best laptops for video editing or top laptops for programming. The formulation itself highlights that the user is looking for a recommendation or trying to make a comparison of products and then make a final decision. Commercial investigation sounds exactly like that.
Commercial investigation examples:
IOS vs. Android
Top bakeries in the US
Best bookstores near me
Cheapest parking in NYC
Transactional Queries
Transactional queries can be described as a call to action keyword-wise. At this stage, the user is sure what they want to buy, so they already search for the ways or places or the exact product to finalize the purchase.
A plane ticket to Monaco
SurferSEO price
Buy iPhone 11 online
MET entrance
Local Queries
As simple as it can be, with local queries, the user wants to find a product, a service, or a place that is geographically close to their location. With this one, searches like groceries or food delivery near me are extremely popular.
More examples include:
Nearby cafes
CVS near me
Theatres near me
Hotels next to me
More Keyword Ideas?
Now, when we know this, identifying keyword ideas don't sound like a miracle. With this in mind, you should be good to make a list of keyword ideas for your specific interest and topic. I assume that at this stage, you have at least one seed keyword idea. 
But wait, what if I am completely stuck, or I do not have enough time to think of keyword variations?
I feel your pain—a couple of things you can do here. The first and the most explicit one, check the Google Search Console. Scroll all the way down and take a look at what Google suggests.
Is that all? Alternatively, use SEMrush's keyword overview or Ahrefs' keyword explorer. Both will give you keyword variations sorted out by the keyword type (related keywords, questions, etc.), volume, and other factors.
Competitor Landscape
To compare what keywords your competitors rank for, first, you have to understand who your competitors are. Here is the easiest way to do it. Search for concrete keywords (the ones we've already brainstormed in the previous section), and see who ranks in the top 3. If you want to be on their spot, be ready to analyze their domains for the most popular keywords. Again, both SEMrush and Ahrefs will work. Just paste each domain on the search bar of these tools (one-by-one) and skim through the top pages. Now, look at which keyword dominates on that page, or stated otherwise, which keyword value is higher? Found? That's what you should focus on.
How to do the Keyword Research?
Moving on to a more in-depth analysis of how to research a keyword. If you got the chance to search a keyword on any automated keyword tool, you most likely came across dozens of identifiers, often with corresponding numerical values. Did they confuse you? Hang in there with us, since right, now in this section, we will explore them one-by-one to understand what each identifier means and how to make use of them.
They are really repetitive from one tool to another. I will explain on Ahrefs, but what makes them different on other tools is really the physical location. So, no worries.
Ahrefs Keyword Explorer
First of all, Ahrefs has multiple packages to meet everyone's needs. The pricing and the limit per tool differ from one package to another. You can learn more about each one here.
When you log in to the Ahrefs and click on the Keyword Explorer, you will be offered a text box where you are supposed to type your keywords. The limit per one-time search differs based on the package.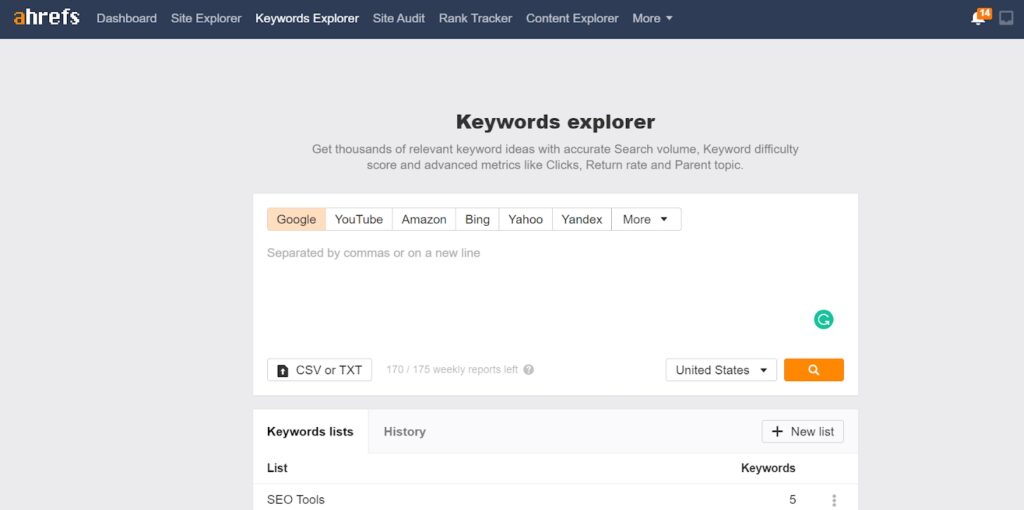 Look closely, and you will notice that with Ahrefs, you can search for keywords within a specifier domain, whether Google, YouTube, Amazon, Bing, Yahoo, Yandex, or others. By the way, those others include Baidu, Daum, Naver, and Seznam. You are also free to select the country at the bottom right and search for the keywords.
Now when you click the yellow search button, you will get the list of your keywords with some specifics such as the keyword difficulty (KD), volume, global, clicks, CPC, CPS, RR, SF, parent topic, and SERP.

The keyword difficulty is a measure from 1-100 absolutely based on the quality and the quantity of the backlinks. It is basically a competitiveness mark that is used to identify the keywords that rank in the top 10.
The keyword volume gauges the average number of searches per month per keyword. In other keyword tools, it can also appear as average monthly searches. Note that keyword volume is not the number of searches per user, which means if there are three people, and each of them searches the same term 20 times, the number of the volume will be the sum of the three, 60.
Global search volume shows how many times, on average, people from the countries of Ahrefs' database search for the given keyword. Again this is a monthly metric.
The clicks metrics displays the average monthly clicks on the search results people make to find the desired keyword. Ahrefs claims that some searches generate clicks of several different results, while others might not do at all.
Cost per click! This shows the cost that the advertisers pay for each ad click. Please, also note that CPC refers to the paid search results. CPC is usually represented in dollars.
Clicks per search show the ratio of clicks to keyword search volume. It shows the number of distinct search results people click on average in a specific country.
Return rates are a bit complicated and more relative. They show how often a person searches for the targeted keyword in a month. But do not expect an exact number of searches. Return rates are more generalized and, above anything else, point to the frequency of searches.
These are tied with SERPs. They show the enriched search engine results page (SERP) that are not traditional organic results.
This mentions the parent topic (i.e., the general one, which serves as a base for more narrow keywords) for a given keyword. But if your keyword is something as generic as SEO, don't expect Ahrefs to overgeneralize it. The parent topic in this respect will still be SEO. The way this one works is by looking at the top domain results for a given keyword and identifying the key keyword that makes the page rank.
The SERP button on Ahrefs allows you to see the entire SERPs overview for specific domains with as detailed metrics as Ahrefs Rank, Domain Rating, URL Rating, Backlinks, Traffic, Keywords, Top Keywords, Volume, etc. You can find more information on this in our off-site SEO article.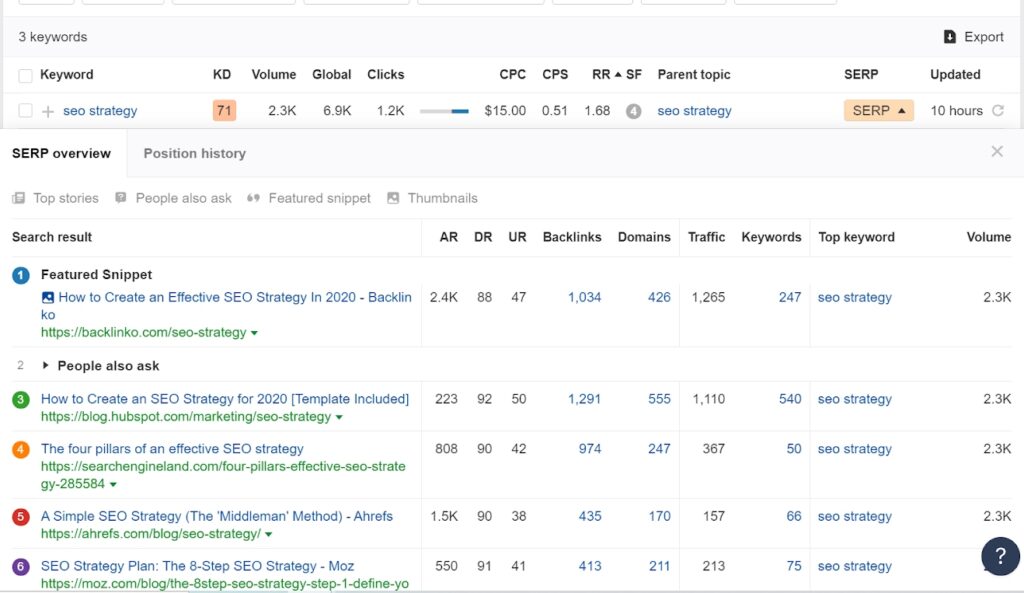 Notice that you can download both the SERPs and the keyword research results as an Excel file with only a click. Find the export button on the top-right corner.
Have you already noticed that you can apply even advanced filtering to researched keywords? You can mention the min and max measures of numeric indicators, adjust a bunch of SERP features, and include or exclude particular words all through the top bar. Doesn't Ahrefs rock?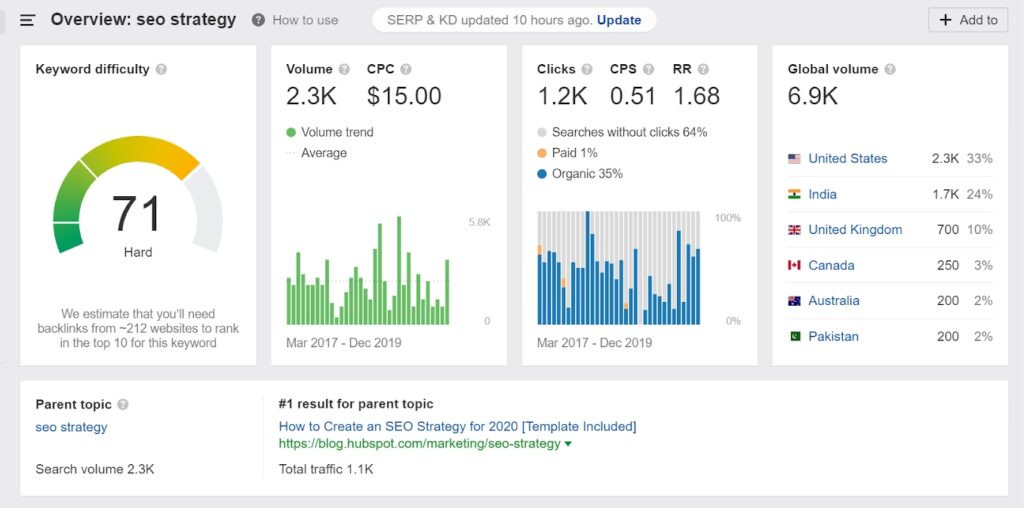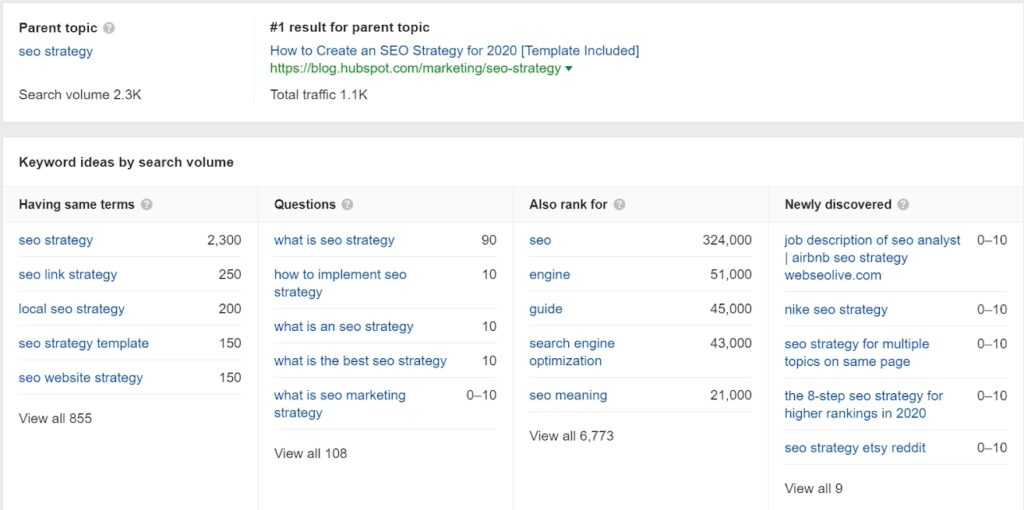 Want More Keyword Research Tools?
We've defined keyword elements based on Ahrefs' examples, but the good news is that there are tons of tools out there ready to take the burden of through and targeted keyword research/ analysis off of your shoulders. The top ones in the market are SEMrush and Moz. All of them, by the way, are either all-in-one or multi-functional tools that do not necessarily have a primary focus on one aspect of SEO.
The pricing and the features differ among these tools, though. If you are willing to discover more keyword research tools with the pricing and general descriptions, feel free to check our ultimate guide to SEO tools.
How do I Use Keywords?
If you have all the research done, if you are aware of the key metrics and identifiers but don't really know how to use them, you are in big trouble. No, we don't want to scare you, but having the keyword research done and not knowing where to apply that information and how to make use of it is like knowing the alphabet but not being able to make sentences.
Now relax, we are here to help you. First and foremost, your keywords describe what your content is about and this is the most significant definition that literally encompasses all the smaller components. Whatever you consider, a part of your content must have a keyword since Google crawlers use that info to reach out to your domain. And hell yeah, that gives your page a search ranking.
I can't stress enough how important page titles are. They are the number 1 heading in our article. So, trust me, you really want it to be optimized to the fullest. They are also the first thing the search crawlers bump into.
These usually follow the title tag or the page title. They can or cannot be included in the article; it depends on the author and the intent, but having a keyword-heavy meta description can give a boost to your SEO.
Naturally, your blog posts need keyword optimization like nothing else. They are usually the textual parts that are meant to create meaning, draw the readers in, hold them a minute longer on your website, and increase your traffic. So, if your blog is not being optimized, while taking the considerable part of your site, you are obviously failing then.
H2, H3, H4, and other headings are regarded as subheadings with the respective significance. You have to be as cautious with them as you are with your title, meta descriptions, and blog posts.
This might sound confusing to some but believe me, it shouldn't. Images are clearly not the first thing you look into when thinking of keywords but there are ways you can optimize even your images for SEO. Think of a title for your image that contains the parent keyword, or rename the image file, so that it also reflects your seed keyword. Finally, consider using keywords in your image's alt text. Three points to optimize per image, could you imagine?
Exactly. URLs are not a bunch of random numbers gathered on a bar to express a website. You can optimize your URLs for keywords as we discussed for images. They can become a whole headache if not given enough attention.
The anchor text is a textual element, usually, one or several words, that contains a hyperlink and interlinks either different domains or different sections of the same domain. It provides backlinks to your website, and if the backlink text is keyword-heavy, that's a win.
Anything your mind can think of
Not to turn to off-site SEO constituents, but keep in mind, anything your mind can think if, no matter if it is social media, forums, or reviews, everything that matters. And keywords can be used in combination with each of them. They gradually add up to your SEO in a handful of ways, although you do not always notice that.
Wrapping Up
One can barely imagine an SEO process without properly researched, selected, and analyzed keywords. And just like any seemingly tiny component of a search engine, there is an entire science and personal philosophy behind the mere expression of the keyword. Cracking the SEO Keyword Research covers only a particle of the entice SEO puzzle, and to perceive and confidently perform optimization for your website, blog, product, or service, we sincerely recommend reviewing our other articles.
As for the keyword one, good job so far! You made it!
We will be beyond happy to hear from you. Feel free to share your experience with keyword research. Which tools did you go with? Anything you would want to learn more about? Your opinion is our priority. Let us know in the comments below.