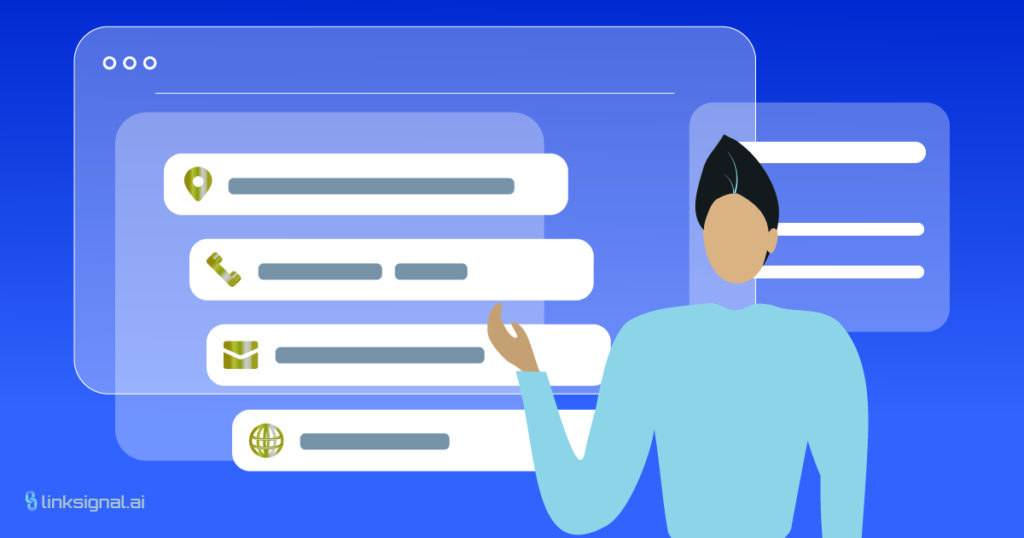 Building local references with steady NAP data on your Google My Business profile plays a huge role in your search rankings.
NAP data plays a vital role in both search engine visibility and consumer trust. It can increase your rankings or stint your local pack. It can make it easy for people to find you or frustrate them and eat into the brand trust.
First, Google determines where to rank your business by pulling out NAP data from your GMB (Google My Business) profile. Then, it matches NAP data from your GMB account with the NAP posted on various online records.
Having a constant NAP is more comfortable for possible customers to find detailed data about your business. Contradictory, NAP data can make users disappointed and lose potential contacts. Optimizing NAP behavior can help improve your business across different sources. So let's jump right in.
Table of Contents:
The Basics of NAP Consistency
NAP correspondence links to how reliable and up to date your business data is on various listings, social media, your site, and other sources.
Acknowledge that search engines consider small things. It is not enough to show necessary information existing in your business and focus on the spelling and formatting of NAP data.
Even though NAP does not incorporate your website's URL, know that it should be noted accurately across various sources. Try to concentrate not only on NAP regularity but the data listed about business.
Once you have steady NAP information, you are likely to appear in the Local Pack at the top of the search. Getting featured in Local Pack may result in having more clicks on the results pages to complete a user's search intent.
If search engines find incorrect data about your business, they will not tell users who you are and where you are located. It will damage your local rankings, and people will stop charging your business.
If you want to improve your local search rankings and brand trust online, let us dig into what you can do to get your NAP data right for a successful local SEO campaign.
Map Out the Features of Your Business.
Here is the deal. If you run one or multiple business locations, it's time to set up your fixed business name, phone number, and address details. Before you start optimization, you can take into study the following things:
You can add any service or location keywords to your Google My Business name to improve your local rankings. You can combine locations within the term for many business locations to prove more significance for search engines for each targeted location.
Decide for yourself whether you are going to write the complete word or the summary of your address. Your properly registered address should be compatible and add value anywhere on the website.
Search engines register phone number area codes when serving local decisions. Choose how you want to write your phone number and stick to it every time you consider writing your number across the website.
To maintain your NAP compatibility, you need to follow your local rankings regularly, as those can influence it. Constant monitoring will help you expose any problems that can hurt your rankings. You can try the Google Rank Checker to control local orders in real-time.
1. Proofread Your NAP Data.
Once you settle on your business's real name, phone number, and address, you need to fill out some paperwork before presenting them to the right companies. Double-check how your NAP data is recorded initially.
When you turn or move your business to a separate office, update your business data. You can create the spreadsheet and check where else you should update the data.
Avoid reporting parallel locations for your business. Different NAP variations make search engines and people disappointed and frustrated as they have no idea which listing to rely on.
Once you find any duplicates, you need to remove them by contacting site owners and declaring your business listing. Try to avoid various options in your NAP profile. Do not use multiple phone numbers for a particular business location.
2. Optimize Your Google My Business Page
A lot of possible customers will seek your business using Google. So, if you want Google to trust your NAP data, then it's time to update your Google My Business page.
Guarantee that the company address, name, and phone number resemble your site's news and in your papers.
Once you see some differences, immediately update it. After Google verifies your company, your specific NAP data will appear in Google's Local Pack when clients search for your business.
You can trace your optimization process on the Google My Business dashboard. To reach 100% optimization, you should add other stuff to your GMB page.
But wait, there is more. You can also control your profile with a unique UTM URL and examine the result of your optimization steps in Google Analytics.
3.   Update Your NAP Info on Your Website.
Your website is your business's leading face to both people and search engines to get all the details right. Once you have made changes to your NAP data or found some differences, your website is the first to renew it.
Your listing data should be precisely the same as your site to guarantee that everything is up-to-date and with correct spelling, formatting, and grammar. You better check yourself before you destroy yourself!
Please promote your business name, phone numbers, and address in particular areas, such as your website's footer and header, so that everyone can see them on all the sheets of your site.
As you know that search engines index web pages, not websites, so guarantee that your NAP data is right on all web pages to show up.
4. Use Local Schema Markup for Your Business.
Adding local schema markup to your page enables Google to assess your NAP data and appear in affluent parts. You do not need to be too particular. Use Google Data Markup Helper to add your data for your company.
Once you are done making your structured data code, you can check it for efficacy using Google's Structured Data Testing Tool. It will show all faults for the necessary missing features and give some tips to add more data to your structured data.
5. Update and Audit Your Business Directories and Listings.
One of the most important steps to improve your local SEO is to build up local citations across reliable online directories.
If your company is signed in some business records, you should check out how compatible your NAP is with your site's data. Pay attention to your entire company's name, phone number, address, and URL.
6. Keep Track of Social Media.
Social media can have a meaningful influence on your search results. If you have profiles across various social media platforms, check out all of those profiles to guarantee that your NAP matches your website's data.
It is never too late for those who are just starting to create social media profiles and provide consistent NAP information.
7. Manage NAP for Multi-location Businesses.
Here is the deal. For businesses that operate multiple locations, having a consistent and clear NAP can be difficult. Sadly, many business owners do not pay a lot of attention to NAP regularity for a multi-location business that can miss new customers.
To improve your NAP details for multiple locations, do not do things like:
Numerous phone numbers for one business location. Make sure to add a regular and local phone number for each particular area through your GMB listing, social profiles, landing page, and online catalogs.
Name and address variations and changes. Once you adjust your business name or have name or address changes, you should promptly update your NAP info. Otherwise, it can cause error and duplication.
Less is better. Do not build a lot of quotes for your business. It is tough to handle too many sources in the setting of multiple inconsistency problems. You are better off marking the most successful online directories with real traffic and regular NAP than having many low-quality citations that are hard to update.
Closed and moved locations. If you have moved to a brand-new location or closed your shop, leave it and update your NAP data.
Different URL variations. Having duplicate website addresses can negatively impact your business. Just choose one URL and hold to it everywhere.
Once you recognize NAP discrepancies, manually examine using Google-Fu to find out citations that Google rates approved. I recommend tools like Moz Local or BrightLocal to maintain NAP compatibility difficulties for a business with many locations.
Bonus Tip from LinkSignal
Even if you establish your GMB page, refresh your website, check out the NAP regularity on all of your social media profiles and business listings, tracking marketing actions' progress is essential for any local business.
For this purpose, check out Finteza to get excellent analytics. You will be able to get the most detailed picture of your local search display, reveal a transparent analysis of your traffic, and set growth goals based on events or visited local pages.
Get Your NAP Profile Right
Google plans to show search results that are ideal solutions for your search query. NAP regularity will help you rank much higher in Google Maps, let people find your business, and finally keep your business to meet their needs.
The more reliable and compatible the NAP Google finds, the more opportunities it will give to your business and rank high for local searches. So, take full advantage of the possibilities staring you in the face and get your NAP profile right.
Still not sure about anything? Let us know in the comments section below.