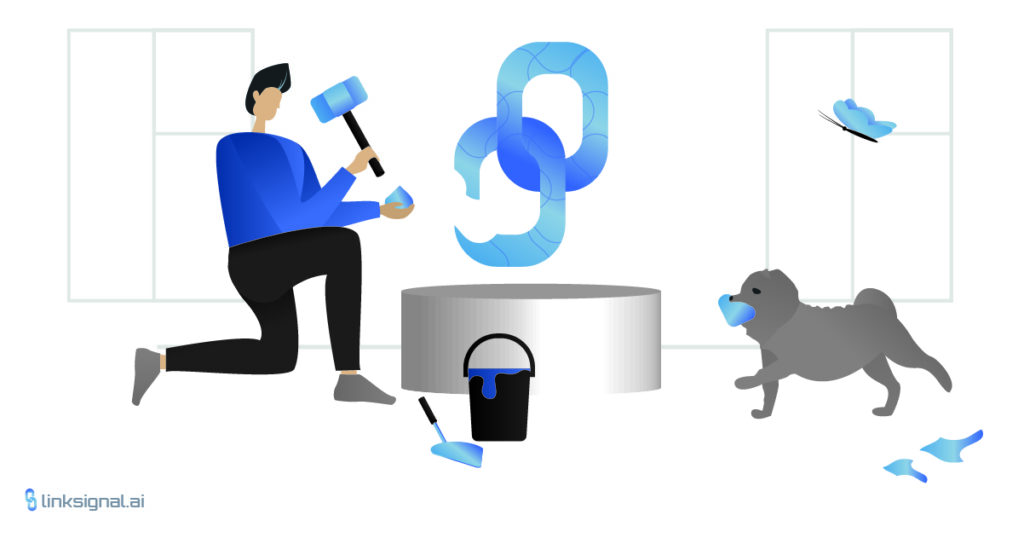 You probably know many backlinks strategies. With this guide, you will find backlinks strategies that will help you rank. Be ready for some advanced and out-of-box techniques.
If you are looking for specific strategies filter out the based on types:
74 Content Strategies to gain Backlinks
Advanced Content Strategies
1. Industry reports or keyword research
Create industry reports for different industries. Pick a trending industry and conduct competitive analysis or keyword research. Above all, make the report appealing with charts and tables, mention your website, and publish.
Tip: share the report with CEOs or CMOs of the industry players to get extra reach.
2. Create a blog
Ranking without a blog is almost impossible. Blogs come with an opportunity of many backlinks because people are more likely to give links to useful content pieces rather than your pricing information.
Ebooks
Make high quality, resourceful, and useful ebooks and submit them to PDF directories. You will not only educate fellow humans but also earn links.
Research papers
You need to publish research papers to become even more credible in your industry. This will also give you links whenever people cite your research. If you end up finding something new, then your paper will become even more popular.
For example this paper is not only a good read but also earned some backlinks
Publish ultimate guides
Ultimate guides are more extended versions of blogs. This means you can include as many keywords as you want. They also cover an entire topic in one guide, which brings value to a lot of people. Useful guides can become a must-read resource for the subject.
This ultimate guide by Search Engine Journal received backlinks.
Opposite views
If everyone in your niche has the same view, do not be afraid to share a contrarian opinion. If this is done right, you will earn backlinks.
Newsjacking
Look for hot stories and write about them. According to David Meerman Scott, who coined the term "the process by which you inject ideas or angles into breaking news, in real-time, to generate media coverage for yourself or your business." Newsjacking can earn you backlinks that Google loves.
A very good example of newsjacking of Burger King's introduction to big mac line after McDonalds lost its exclusive Big Mac trademark.
SEO power pages
This is about creating blogs and articles that are at least 2,000 words long. These articles not only cover lots of keywords and bring value to people, but also they are Google's favorites.
This SEO power page earned around 1.8K links and has around 50 ranking keywords.
Newsletters
If you have a newsletter, probably you are linking to your website. However, appearing in other's newsletters can also earn you quality backlinks.
Create lists
People love lists. They are easy to read and bring a lot of value. If your content is useful and relevant, you will get some links.
Case studies
We are probably using many tools and products daily. Create case studies about the tools that you use and mention your links. Let the company know about your case study. So now, when people have questions about the tool, your case study can be a guide for them.
Video streaming
Live videos are popular and trendy! If you are in an event, make sure to video stream everything you see. If you are the only one doing and event that is quite popular or exclusive, you will earn links.
Be the first
Keep in eye on industry trends and news. Whenever you see something hot, write a story, and analyze it.
Create templates on Google Docs or Google Sheets
If you like to have organized information or data, then you probably have templates for internal use. Delete any internal data you might have, add your website link, and post it to your website or share them via newsletters.
Create a list of myths for a specific industry
There are ideas highly rooted in our society that are myths. Creating a list of legends for the industry is disruptive and engaging. These characteristics usually are adequate to secure some links.
Be the first to cover a conference.
When you are first writing about a conference, other writers will link back to your content. Make sure to take quality photos from the conference.
Interactive content
This is probably the future of content marketing. You can think of it as a synergy of video and content. Interactive content takes time and resources to build. You will have a content writer, graphic designer, and developer work on the piece. However, the payback and return are relatively high.
Testimonials
Make an authentic and well-written testimonial about a product or service you are using. Email to the company or submit through a form—a great way to thank the builders of your favorite tool and earn links.
Guest blogging, but be mindful
If you are new to guest blogging and SEO, avoid sites and blogs that easily accept blogs. They usually have low Domain Authority and high Spam Score. So, reach only to the most prominent players in the field. Yes, do not be afraid to pitch to editors in Mashable or The New York Times.
" Best" or "Top" lists
Before making purchasing decisions, customers usually google to see reviews. Appearing in the lists with Best or Top keywords will not only trigger buying desire in the customer but also earn you some links.
Interview influencers
Sit down with influencers and have an interview with them. They will share the interview with their followers, which will earn you backlinks and traffic to your website.
Sharing stories of other people
Well, all of us like it when we are presented under a positive light. Write a blog about a famous person. Ego baits and get a chance to receive backlinks from them.
Create emotional content
Highly emotional content is more likely to earn backlinks, according to recent research conducted by Moz.
Sum up conferences/events you take part
Many of us are too lazy to take notes during events. As a result, we miss parts and feel guilty. Take this opportunity and recap events you take part in. Do not forget to use conference hashtags to get the audience's attention.
Reverse guest blogging
Turn to influencers and industry experts to write for your blog. They will not only share the content, but people will be more likely to link as it is coming from an influencer.
Review something new
Whenever a new product is entering the market, be the first one to write a review. This will get you tons of backlinks.
Share personal stories
Do you have interesting, funny, or embarrassing stories? Write an article about it and earn links. Why? People like stories, and emotional content tends to be more shareable.
Long-term content contribution
This is taking guest blogging to the next level. Look for regular contributions for larger sites and try to own a column. This way, you will secure monthly backlinks, and if the site has enough audience, you will earn traffic, and some of them will hopefully turn into clients.
Glossaries
Every industry has its jargon making for many people unable to understand what's going on. Industry glossaries are highly helpful content pieces and can earn a ton of backlinks.
Dead content
Recreate content that has been hosted on the broken link. Reach out to the webmaster with the replacement.
Co-Branded content
Collaborating with another company for your next blog posts will only make everything easier. First, you will divide the content. And the best part; two of you will team up and share the blog post.
A nice example is the collaboration between Washington Post and Optum which result in interactive and educational content.
Your data and research
If you own data from customers or do research and have impressive results, create a blog post. Make sure to turn your data and numbers into visuals.
This marketing report by hubspot have around 12k backlinks.
Publish product comparisons
People love to read reviews about products. Commercial investigation ( Product A vs. Product B searches) is also a general search intent.
Content partnership
Identify places that can use your content. Pitch to the webmaster and offer them to use some parts of your content.
Translate
Content is now usually available in English; however, some people do not speak English. Go ahead and translate popular blogs and articles, publish them on your site and let the author know about the translation.
List of ranking
We cannot get enough of lists! Another list you can create is a curated ranking of companies, people, podcasts, universities, teams, and events.
Appear in podcasts
A podcast is not only a great way to gain backlinks but increase brand awareness and acquire authority. It is fantastic because people listen to podcasts everywhere while running, driving, exercising at the gym, and while showering (well, maybe I went too far).
Interview experts
Industry expert interviews can give you serious links. Make sure to add quotable content on the interview page.
Audio Content
There are a good number of people who prefer audio content over reading. Turn some of your performing articles into audio.
Write creative comments
Take commenting to the next level. Instead of writing corporate and boring comments think of something creative and funny/
Create quotable text
People like smart and motivational texts, also they like funny and bizarre ones. Create quotable text, and if it catches on, people share it a lot. Make sure to google the quote once in a while and see who is using it, and gently ask them to link back to you.
Write about the environment
Green content is much easier to rank and less competitive. There are many topics you can write about, and green bloggers and environmentalists will happily give you links.
Humor
Creating funny content about industry news can result in links. Why? News is sometimes dull and hard to understand.
Write about other niches
Let's say you run a beauty company, and your content is mostly around skincare and makeup. You can also write about another industry (e.g., cars) creatively. This might earn you links and social sharing.
Transcribe
There are some cases that podcast hosts or influencers do not transcribe interviews or tutorials. Transcribe the audios professionally and send them over. In most cases, the blogger or host will be thankful, and they will link you.
Content Acquisition
Find content that is popular and has earned some links. Purchase it from the author and put it to your website
Create resource lists
Pick a hot topic and collect all the best articles, blogs, and ultimate guides. Post it to your website and share the link with the authors of the content pieces and possible users.
Create Tutorials
People like how-tos and tutorials. Think of a funny and engaging way showing people how exactly to do something and get people to share your content.
User-generated content
Have a specific section dedicated to user-generated content to your website. Ask them to share their opinion about a topic in your industry and create a blog post with all the ideas. Make sure to collect their emails and let them know when the blog post is ready.
Make-up fake products
Another tip for eCommerce businesses. If you are selling meat, for example, add a fake and unrealistic product like unicorn meat.
Easy to Implement Content Strategies
Create a killer About Us page
About Us pages help newspapers, and relevant pages link to if you speak at an event or write about your company.
Make awesome product pages.
If you are into eCommerce, do not make usual product pages. Add illustrations and exciting product descriptions.
Translate your content
Translate you're most performing into other languages. This way, you will not only increase the impact but also earn backlinks.
Tip: translate in languages that do not have lots of useful content in your industry.
Bottom-up approach for content creation
Instead of creating the content and then finding linking opportunities, first, find backlink opportunities and then write the content.
Create educational content
To earn some links from .edu websites, you need to create targeted content for students or professors.
Surveys
Conduct online surveys among your audience and run several ads to increase the number of participants. Then publish the survey results. If the products are unique and exciting, you will earn backlinks.
Holidays
Did you know that some people celebrate Ugly Christmas Sweater Day? With this being said, there is probably a holiday-related to your business. Creating something newsworthy that day will result in social sharing and backlinks.
Old content
Some industries, like SEO, change very often. This usually results in outdated content. You can find outdated blog posts, make them more relevant, and offer the initial author updates. You need to include your link in the updated content.
Avoid keyword cannibalization
Keyword cannibalization happens when authors publish blog posts or articles that can rank for Google's same search query. With this, you can ruin your reputation, and link building strategies will not help you rank.
Evergreen content
Create content that can be helpful forever. To keep its relevance, update once a year. Evergreen content will be linked out for many years, giving you a steady backlink stream.
Create the making of videos
If you create cool videos or infographics, share your techniques with people. They would love to learn how you make them. As "How-To"-s are more linkable; you might receive quality links.
Create April Fool's content
Humorous content is more appealing. Tackling a holiday is a very cool SEO link building strategy. Why not mix them for the next April Fool's day.
WOM
Do not belittle the role of offline marketing. Whether you are out for a bear or a business meeting, make sure to hand visit cards and share the URL of your website.
Text interviews
Text interviews are fun and quick—an easier alternative to podcasts.
Create quizzes
People love taking quizzes! So, create an account in BuzzFeed and other quiz platforms and create funny and exciting quizzes.
Create Wikipedia pages
If you have a relatively famous company create a Wikipedia page about and link to your company page
Create calendar guides
Curate industry-specific events in one place for a month or a year. People will value this a lot and give links.
Create a Link to Us page
Make linking to you fancier and cooler. Create a "Link to Us" page and including which URLs, logos, and anchor texts people can use.
Offline marketing
I have a friend who always mentions his website whenever we are out for a drink or dinner. This results in brand awareness, website traffic, and sometimes links.
Submit to blog directories
Having a blog is far one of the most important strategies for SEO. However, you should not stop once you publish an optimized article. Go ahead and submit your articles to blog directories. Here are some examples:
Never turn down a crowdsourced post opportunity
When bloggers reach you with a request to contribute to a crowdsourced post opportunity, always agree to write. It will 5-10 minutes from your time and, in turn, will give brand awareness and backlinks.
Content Acquisition
Try to find positively linked content pieces from passive websites. Ask the owner to buy the content and permanently move to your website.
Curate content
Create a list of all the best articles and blogs around a specific topic. Not just copy and paste links. User anchor text and a short description of every content piece included. People like easy access to content and will give you links
Tip: Share the list with the authors you mentioned and get social sharings.
Avoid Grammar Mistakes
Grammar mistakes will make your content look bad, and people will not link to it.
Fix spelling mistakes
People are more likely to share polished content instead of one with spelling mistakes. Use free tools like Grammarly for some help.
34 PR strategies to gain backlinks
Advanced PR strategies
Offer scholarship
Offering scholarships will land to edu. Links. Scholarships are highly sought after among students, parents, teachers, and university staff. A couple of thousands of dollars spent at least yearly can result in a lot more profit.
Turn PR into link building
Next time when you will run a PR campaign, make sure to send your website or blog posts links with any PR campaign.
Help charities
Unfortunately, Google is now considering donations to charities as a paid link. However, this should not stop you from helping your local NGOs, meanwhile earning some backlinks. If you have a team, spend some of your weekends with NGOs and help them organize events or other activities. If you own a marketing agency, take over their social media accounts and increase their engagement and reach. Indeed, they will end up writing about your help and give some links.
Student blogs/newspapers
In some universities, students can run blogs or newspapers. Getting covered here is a lot easier.
Speak at universities
Usually, universities announce upcoming events not only through email but also post to their website. Also, these events are generally life streamed to their social media accounts.
Sponsor a youth athletic team
Sponsor one or two players from the team and show up to their games once in a while. Your name will be mentioned on their website, and you can gently ask them to add links.
Sponsor upcoming events
When a successful event ends for this year, reach out to the organizers and offer them to sponsor the upcoming event. This way, your link will be on their website for at least one year.
Sponsor venues
Like sponsoring events and podcasts, supporting venues will also secure your links in addition to brand awareness.
Sponsor Events
If any of your local companies and NGOs are planning an event, become a sponsor. Make sure that events are relevant and include your buyer persona.
Sponsor Posts
Well, this might cost you some $$, but it is better than buying boring banner ads. All you need to do is find sites that accept advertisers.
Sponsor podcast
Like with sponsor posts, this cost money. In turn, you will get some links, and also, the host will thank you during the show. Make sure to ask them to pronounce the actual URL to your website for extra direct traffic opportunities.
Sponsor award
If you are new in the industry and do not have high chances of winning an award, you can sponsor them or even volunteer for them with your team. Award's websites usually have a special section dedicated to sponsors or sometimes even volunteers who will earn you some backlinks.
Student clubs
Most of the colleges have student clubs for a range of topics. Offer them help with building a website, designing marketing materials, or sponsor their events. Some clubs will mention you on their website, and as the websites are usually hosted on a .edu domain, you will increase credibility for Google and other search engines.
Host other's events
If you have a hall in your office or an empty room, you can offer them to organizations for free or very cheap. You will earn some links every time they will mention your location.
Tip: Create very detailed walking or driving instructions to your office. This way, organizations will share your link for location.
Offers to students or university staff
Another way to get some edu links is by offering discounts or special packages to students and faculty members. Universities usually post these offers to their website's news, which earns you links.
Update university syllabus
When I see what students are learning during Digital Marketing courses, I am shocked; the learning materials are super outdated. If you are a professional of any tech topic, then contact universities and offer them your help. Also, you provide your website/blog as a resource page.
Do something stupid
Eating during a conference, suing Google, or wearing multiple layers of clothes or anything a toddler would do. People like to give links to unusual and funny situations. Warning: think twice about this strategy and weight risk and reward ratio.
Easy to Implement PR Strategies
Speak at industry conferences
This is an excellent way to make connections in your industry. Make sure to include your actual URL in your visit cards.
Webinars
Host webinars and take part in webinars. You will not only increase your network but also earn links.
Host a meetup
Do you have friends in the industry? Get together, host a meetup, share the event through social media, and get as many guests as possible. Link to your website in the event description and promote it orally throughout the meetup (do not spam people, though).
Awards
Every industry has at least a dozen of annual awards for individuals and companies. You can take part in them, and even if you do not win the price, your information will potentially be published to the award's website, earning you some links.
Help local candidate during an election
This can land you to some gov links. If you are a marketing professional and own an agency, you can reach out to the candidate and offer free services. As a result, you will not only increase awareness of your company and do something for CSR (Corporate Social Responsibility) but to earn links.
Ask bloggers to review
Reach out to bloggers and share your product or service with them. Ask them to write a review and, in turn, offer them discounts or gift cards.
Contest
Hold a contest and offer something valuable in turn (amazon gift cards, technology, vacations). This investment can result in thousands of dollars worth of quality links.
Donations
People start fundraising every day for health, education, and other needs. Donating them will result in backlinks, and you will do something for a good cause.
Cold outreach
Yes, this might not be a very likable strategy, but with a good mail merger and email list, you can reach out to a lot of bloggers that write about similar topics and pitch your new article.
Get covered in local newspapers
If you cannot afford being covered in larger newspapers, start with local ones. It does not require a lot of effort and is still good for brand awareness and backlinks.
Paid reviews
You can find bloggers who review products or services for a certain fee.
Sponsor giveaways
Can the majority use your product or service? If so, partner up with influencers and offer your product as the giveaway for free. You will not only gain users that might become your customers but a backlink from an influencer.
Offer coupons and discounts
Reach out to bloggers and influencers and share Promo Codes or coupons with them. As a result, they will create an article and mention your website.
19 Creatives Strategies to Gain Backlinks
Advanced Creative Strategies
Create paper stickers
People love to decorate their laptops with stickers. Create funny stickers and give them away. Make sure to mention your URL wherever possible. This is not only good for brand awareness and traffic but might also result in some links.
Badges
Create industry-specific badges and also include an award if the budget is secured. Make sure you have a link to the award page in the embedded code.
Videos
If you have helpful videos, share them with bloggers with an embed code. If they end up using the video, they will give you links.
Create awesome images
Create images and post them to a stock-free image website. Then with reverse image search, find people who have used your pictures and politely ask for citations.
Printable resources
Hard copies are still popular and can add credibility to your content and increase linking chances. For your longer blogs and articles, also offer PDF versions.
Create presentations
If you have time, go ahead and create public presentations and submit them to Slideshare or Prezi. Mention your website as a creator and gain some nofollow links.
Create WordPress Themes
If your developers and designers lack tasks, ask them to create WordPress themes and submit them to the WordPress Theme Directory. This not only brand exposure but also can accumulate backlinks.
Icons
Create icon sets related to your industry. If they become famous, you will earn serious backlinks from design blogs. Humor makes it funny and easy to catch
Instructographics
Create fun and exciting infographics that teach people to do something. People will embed them into their websites. Track the image and make sure people are giving you links.
List of stats
Curate a list of stats around a specific topic. Make sure to optimize the list so that it will rank. People will link to your list because stats without proofs are nothing.
Create Maps
Maps are powerful! They are not only appealing but also contain stats.
Create awesome stickers
Make funny and awesome stickers and submit them to messaging apps. Make sure to have a specific sticker with your URL.
Statistics
People love numbers and data when it is nicely and neatly presented. Create a list of statistics for different industries and publish them on your website. In turn, you will get some references to your content.
Create infographics
People like when complex information is presented in layman's terms. Adding visuals and pictures will increase the value of your work. You can also submit it to infographic aggregation sites. An example:
Easy to Implement Creative Strategies
Design templates
Create templates for websites, blogs, and CVs. Always mention "Design by company.URL
Create widgets
Create custom widgets for your industry. Make the widget easy to post on other websites and embed a link back to your site.
Submit themes to other platforms
Yes, we all love WordPress, but you should not stop there. Look for other platforms and submit your themes.
Submit your designs/website
Do you have a beautiful website? Landing pages that look terrific? You can take advantage of them a little more. Submit your designs to CSS galleries or apply them to design awards.
Submit videos
If you have created videos, submit them to places like Vimeo to get some nofollow links.
8 Relationship Building Strategies for Link Building
Advanced Relationship Building Strategies
Make blogger friends
Increase your network by connecting with bloggers. Build a friendly and warm relationship with them, and once in a while, help each other.
Always emphasize relationship building
If a person knows your chances are high that they will accept your request and do something for you.
Blog commenting
If you are looking for a way to interact with bloggers in your niche and, in some cases, get a backlink, this might be a good strategy for you. Go ahead and start commenting under the blogs you think are relevant, including links to your articles, ultimate guides, or any other content.
Tip: Do not only post links. People will think you are spamming. Take the time and write a comment that will bring value to the table.
HARO (Help A Blogger Out)
Authors posts their articles to get an expert opinion or help. Find blogs similar to your recent content and share some parts. The chance of being quoted is pretty high. Also, you will position yourself as an expert and make blogger friends.
Send gift
If addresses of bloggers or influencers in your field are open to the public, send them gifts during holidays or birthdays. Nurture relationships and utilize them in the future.
Easy to Implement Relationship Building Strategies
Find malware
Use tools like ScrapeBox to find sites with malware. Let the webmaster know and ask them to give you a link as a thank you.
Chase your brand
Run a simple google search with the following search query:
"name of your website" – your website URL
This will give you all of the sites on which your brand name has been featured. Find the ones that are not linking you and ask the webmaster to mention you.
Fix bugs and codes
If you notice a bug or a broken link, let the webmaster know and offer them a fix. Do not immediately ask for a link. Otherwise, you will violate Google's Webmaster Guidelines. Use this opportunity to build a relationship and hope for a link.
55 Link Building Strategies
Advanced Link Building Strategies
Broken link building
Create a list of pages that can potentially link to you. Go and find broken links and contact the owner to replace the link with yours. Need more details? Read our article on broken link building.
University articles
Do you have an exciting or inspiring story? If so, your college would love to brag and write about it. As a result, you will get some links and brand awareness for your company.
Tip: talk to your team and pitch stories to their colleges too.
Here is a great example from HBS
Read More sections
Some blogs or articles have "Read more" sections, where they mention relevant articles from other blogs. Reach out to the authors with personalized and persuasive email will get the job done.
Microsites
Creating micro-websites around your central web resource can be a good trick for interlinking. Also, it can earn backlinks, create additional brand associations.
Google Alerts
Use Google Alerts to monitor links your competitors are getting. You will end up collecting relevant links as Google itself suggests them. Read our detailed guide about Google Alerts for SEO.
Partner up with other Ecommerce sites
Reach out to companies that sell complementary products to yours. Offer a partnership and share each other's works (virtually, through links).
Latest link givers
See who gave you a link to your latest article and let them know when you post a new one.
Crowdfunding
There are millions of crowdfunding projects to back on Kickstarter and Indiegogo. Some of the fundraisers will post your name and link to their website as a thank you. Warning: not all of the fundraisers will post links, so make sure you check and see if they post information of previous backers.
For example:
Tip: If you want to easily find these opportunities make a google search inquire with this
Site:[site URL] inurl:projects +"link to your"
Mention people
Mention people (but not too famous) in your content. They will see that you linked to them, and next to them, when you reach out to them with a linking request, they will at least recognize your name.
If you choose to work with link builders
Some many agencies and individuals are building links. If you decide to hire someone, then pick only niche-specific link builders. This way, you will get more quality backlinks.
If you have a mobile app
You can turn your mobile app into backlinks. Then submit your app to blogs that create mobile app lists.
Email companies that you mention
If you are into blogging, it means you cannot avoid mentioning other companies and people. Reach out to them with your article or other writing and let them know about the mention. If you get lucky, they will repost your article, and you will get some links.
BBB
The Better Business Bureau and other associations you are a part of can be link building targets.
Colleagues into link developers
Turn back to your team and ask them to share the website or blogs with their friends and relatives who own websites or have a significant social media presence. Make sure they are reaching out to relevant people.
Look for expired websites
Find expired domains, use SEO tools like Moz and Ahrefs, find their backlinks, and purchase them. Usually, this will not cost you a lot as the business is already out of business, and the owners do not expect to generate revenue from it.
Do you have new grads and students in your team?
Universities like to brag about their students' and alumni's success. If you have students or new graduates in your team, ask them to see if their experience can be highlighted on the university website.
Alumni List
Most colleges have sections dedicated to their alumni. Some of them link out. Make sure to ask your school to link to your website.
Here is an example from University of Michigan
Chamber of Commerce
Join your Chamber of Commerce and have a guaranteed link opportunity. Chamber of Commerce is usually a trusted organization with a history so that you will get a link from a trusted source.
Job posting
Once you have a job opening or internship, make sure to post it in any place possible. Create a spreadsheet with all the job listing places and categorize them by industries and apply them as soon as you have an opening.
RSS feed
RSS, yes, you read it right. They might not be as popular as Facebook or Instagram, but if you have been submitting to RSS directories, will be no harm.
Breadcrumbs
Breadcrumbs are great for internal linking. They are not only used as a navigational aid for the user but also help Google understand how your website is structured.
robots.txt or meta-noindex
robots.txt or meta-noindex are blocking Google from indexing your page. If you are receiving links to your website's sections, contact the webmaster and update the links.
Hire interns
Getting an edu link will boost your rank. Usually, universities have sections on their websites dedicated to internship opportunities. Reach out to a career counselor and let them know about internship opportunities at your company.
Use link research tools.
Free tools like linksignal.ai will help you find quality links. This will zero out the possibility of getting links for websites with a high spam score.
Q&A places
Websites like Quora or Yahoo Answers can are useful for building no-follow links. You will also end up gaining traffic to your website. Warning: Do not overpost links; these sites usually have strict policies on link sharing.
Post to forums
Forums are an excellent way to not only get links but also interact with professionals in your field of expertise. If you are a marketing professional, look for marketing forums and start contributing.
Easy To Implement Link Building Strategies
Internal Links
Linking to your content is essential! You can control everything related to the internal links because you place them. Make sure to always go back to older posts and add links to newer articles whenever it makes sense.
Ask for more links
If someone already linked you in the past, chances that they will link again are high. The trick here is to build relationships with them instead of pitching every time you publish new content. Thank them for the first link and start building a warm connection.
Resource pages
Resource pages are there to provide people with useful content. If you have a good and informative article, it can possibly be mentioned. However, this is not an easy practice. Your content should be relevant and unique in addition to creative and personalized outreach.
Link Roundups
Bloggers usually create monthly or even weekly link roundups with exciting content pieces. If you have good content, then the person running the roundup will probably be interested in linking it.
Look for irrelevant links
Now everything is changing at a breakneck pace. Similar to broken link building, you can take advantage of irrelevant content. For example, if you run an SEO blog and you read somewhere about outdated information regarding search engine ranking, you can let the webmaster know and offer your link instead.
Commenters
People who comment under your blogs might also be into giving you links.
Link Reclamation
Naturally, your website will lose links over time. Track down these links using tools like Ahrefs and Moz and ask webmasters to replace the links.
Unlinked mentions
When you create great content, people like to quote you. Sometimes they forget to link to you. Go ahead and politely ask them to give you a link while quoting.
Your customers are also influencers
Do you have a lot of happy customers? If so, ask them to share their experience within their network. If you are lucky, the customer will have quite a following, and you will get some traffic.
Organizations
There are professional organizations in your industry that you can become a member. Usually, you pay a certain amount to join the organization. As a result, you got listed on their website with your personal information and company website.
Buy website
Look for websites that haven't been used for a while but are still receiving traffic. Offer to buy the website. Now you can either direct it to your website or run it for your advantage.
Buy gov links
If it is costly to buy links from your company, look for less developed countries. Links will be cheaper in that case.
Past link givers
See who gave you links and contact them offering a partnership to share exclusive news and articles with them. Once a link giver, always a link giver.
Mention your suppliers and manufacturers
If your supply chain consists of suppliers and manufacturers, dedicate a page to them on your website and list them. Ask them to do the same for you.
Niche-specific directories
Besides listing in general directories like Spoke.com, look for directories specific to your niche. This is not only another backlink opportunity but also might result in more relevant visitors.
Paid directories
Some directories are asking for money in exchange for a listing. This might also be a viable link building option.
Tip: Make sure to check the directories before paying. Use tools like Similar Web and Moz for traffic, spam score and domain authority
Groupon and other coupon pages
Some of the coupon pages allow you to include your website when you add coupons.
Link to other blogs
Most of the marketers track the links they are getting. If they like what you are doing, they might link you in turn.
Swamp links
Trade links with other companies. The trick here is to pick relevant partners.
Scraped content
Some people will take your content and publish it to their sites. This is a big no-no and can result in charges for the webmaster. So whenever your content gets scraped, reach out to the webmaster and at least ask for a link to your original content.
Link others
On-page SEO and linking out go hand in hand. This is a great way to build relationships, as well. So go ahead and email to all the people you have linked out.
Get listed on Angel.co
While listing on Angel.co, you are getting a quick link to your website. Also, this website is popular among investors and other startup owners.
Link from co-working spaces, business centers, and malls
Usually, malls, business centers, and co-working spaces have websites where they list businesses or stores in their territory. Make sure that your business is also listed.
Do you mention your company URL in your email signature?
If no, you are missing out on an opportunity to drive people to your website effortlessly.
Rent links
Rent high-quality links from websites instead of buying them. This way, you can have a constant flow of new links.
Reclaim 404 pages
You probably have broken links to your website. You can easily find them in Ahrefs (backlinks, type-broken). Redirect these pages to a similar page and, voilà, you will have new backlinks.
Local listing
Find listing sites like Yelp to submit your company details. Ensure consistency in all the places and update the information in case of changes in your business.
Bonus: Download our list of top 65 local citation sources with DA>50
Track usage of graphics
If you produce graphics, track their usage with reverse image search, and in case it is not linked, contact the webmaster and gently ask for a link.
Ask people you know to give you links
Indeed, you have friends, colleagues, and family members who own websites, blogs, or prominent social media presence. Go ahead and ask them to mention your website or a recent blog you have written.
Tip: Do not look for anything—narrow your outreach to relevant places.
More Tips?
Use reverse image search
Are you looking for podcasts or blogs to contribute? Find a leader in your industry, conduct reverse image searches, and see where they contribute.
Make your content easy to share
Always include sharing buttons next to the articles you wrote. Making the buttons engaging will increase the chances of sharing.
Always personalize general emails and contact forms
If you are trying to reach out and the only thing you find is either a contact form or general [email protected] email, no problem. Make sure to address the email to the person you were initially trying to contact. In this way, the chances of the email being forwarded are high.
Analyze your competitors
See where your competitors are getting backlinks. Although it may be hard to copy most of the links, you can find places (directories, citation sources) that can bring value.
Create simple online free tools
Simple tools like calculators or pic background removers can become popular in a short time and earn you links.
Your competitors in other countries
If you have a diverse team from different countries, it is good to utilize their foreign language skills. Research the links of companies that offer the same services or products as you, but in a different country/ language. This might open up a door to you full of opportunities.
Make browser extensions
If your product can also be used as an extension, create a chrome extension and offer for free. If not, you can think of any extension idea relevant to your business and make it. People will not only use it but also give you links.
Creating a WordPress Plugin
There are people with no development skills that end up creating websites. How they do it? Obviously, through plugins. If you make a useful plugin, you will get an incredible amount of incoming links.
Now you turn
Do you have any backlink strategy that I have not mentioned here? If so, comment below. Also, what are your top picks from the list?