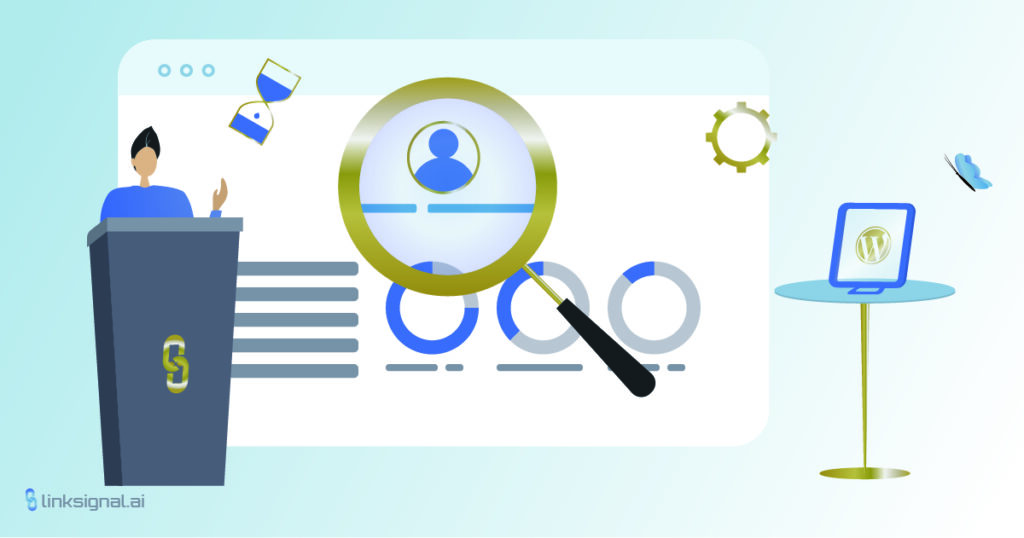 Businesses can no longer ignore Search Engine Optimization; otherwise, they lose the race. I'm sure falling behind on rankings is not in your strategy either. 
Overwhelmed with the increasing number of WordPress SEO plugins and have no idea where to start?
We feel you.
Keep reading to learn more about the top WordPress SEO plugins and their best features.
Table of Contents
All in One SEO Schema Rich Snippets
All in One Security & Firewall
Yoast has been around for over a decade and is still one of the widely used free SEO plugins. It is also our master tool for final SEO health assessment before publishing on Linksignal.     
Why should you get it? There is a whole number of things you can improve with Yoast, including XML sitemaps, title and meta description templates, and AMP pages (with Glue for Yoast and AMP). As for on-page features, Yoast allows you to set up a target keyword and adjust all the other indicators (keyphrase in the introduction/ title/ subheading/ meta description, keyphrase length and density, etc.) based on your keyword. All of these are minor ranking factors that accumulatively affect your SERP results. However, we don't recommend letting these overweigh your content quality.
Yoast also provides readability analysis which in a way, resembles Grammarly, except it doesn't pay as much attention to grammar and punctuation. Instead, Yoast points at the transition words, sentence and paragraph length, passive voice, and subheading edits if need be.
Overall, the tool can be a great contribution to your WordPress content.
Rank Math | All in one + WooCommerce
This one is one of the most multi-functional and compelling SEO tools in the market. First of all, it's integrated with Google Search Console. You will have access to real-time page insights directly from your WordPress administrative dashboard. It hosts an endless array of possibilities under a single plugin.
Rich snippets markup, redirections, speeds optimization, XML sitemaps, SEO for WooCommerce sites, Local SEO… If you are searching for a one-stop-shop for all of these, Rank Math it is!
Broken Link Checker is useful for finding and replacing both the internal and external dead links within your domain. It quickly finds the source of the link, the anchor link, and tells the HTTP status code. You can take out the broken link with an easy click by not even going into the details or using the suggested link alternatives.
But there is one thing you should be ready for. Even though the tool will ease the burden of manual fixing, it might affect your website speed negatively if it is run in the background all the time. Therefore, Broken Link Checker is not recommended for those who have cheap hosting. You can go with this tool two ways: you either have to turn it on and off periodically or you gotta use it alongside and speed optimization tool.
SEO is not just about content optimization, keywords, and backlinks. You can gain a considerable advantage over your competitors if you pay just as much attention to your images.
Here we don't mean picking high-quality images that are contextually relevant. By optimizing your title and alt tags with SEO Optimized Images, you can improve your rankings and drive more traffic to your website via Google Images search.
A3 Lazy Load is a fantastic contribution to your page speed. It enables lazy loading of images, which means the photos won't get loaded until the reader gets to them scrolling.
The tool allows for enough flexibility to choose the specific pages that need lazy loading for their visuals. You can even specify the images within the page, which gives you a great deal of control. A3 Lazy Load can undoubtedly boost your ranking if used correctly.
You should consider HREFLANG Tags Lite only if your content contains regional or linguistic variations. The tool edits the Hreflang HTML attribute to suit your target geographic location.
While addressing a narrow function, the tool offers an abundance of flexibility through the Bulk Editor, Validation Tool, HTML generator, etc. But be informed that it works for languages that are supported by WordPress. Long story short, your thought-out management of Hreflang tags will help the crawlers reach out to your pages, thus affecting your SEO in ways that are not explicit at first sight.
W3 Total Cache | Website Performance Optimization (WPO)
W3 Total Cache has been around for more than a decade, and millions already trust it. If you are looking for an easy and quick solution to optimize your website performance and speed it up, W3TC is most likely for you.
The tool ensures "up to 80% bandwidth savings when you minify HTML, minify CSS and minify JS files," on top of higher conversion rates. This way, our pages will be rendering way faster, which will affect your user experience apart from your chances of ranking.
Thought of filtering spam comments without a captcha? Anti-spam is probably your choice. There are differing opinions concerning the extent to which spam comments affect your SEO performance, but Google does care about the quality of the search results, as it claims, "Google might remove or demote pages overrun with user-generated spam." So, it's worth cleaning up your comments section to minimize the influence of Google's policy changes on your ranking.
Rich snippets are short summaries of your page in the search results, often with the author's photo, star ratings, video attachments, etc. All in One Schema Rich Snippet is one of the most popular schema markup plugins in the market.
The tool facilitates recipes, events, reviews, products, software applications, videos, and other schema types. By helping your snippets stand out, it adds up to your CTR, helping you rank way higher than you normally would.
Although WordPress is a pretty secure platform, extra security and firewall will not hinder your SEO. The tool is designed to take your site protection to a whole new level by proposing its unique grading system. It estimates your site's risks and vulnerabilities through a range of suggested rules that are categorized from basic to advanced. This way, the user can opt for the practices that need most at a given moment. Most importantly, the tool is absolutely free and in no way affects your site's speed.
Final Thoughts
Deciding on an SEO tool for your website can become a headache if your priorities are not defined. 
Think about it.
What do you want to achieve?
Break it into specific tasks to identify the strengths and weaknesses of your webpage. What are the tools that address those tasks?
We hope this article will help you answer the following questions and we are looking forward to hearing about your experiences. Is there anything else you would like us to address in our blog?
Let us know in the comments.